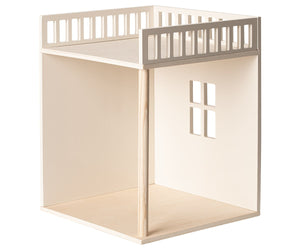 The Maileg Family has expanded so much that new space is necessary! Construction has just finished and now it's up to your own imagination to customize your new space. Make it into a garage, an extra room for friends, or a separate house of its own. The choice is your's to make!
Dollhouse Bonus Room is made of linden plywood, just like the Maileg Dollhouse.
Bonus Room Dimensions:
Measures 11.5 inches length by about 12 inches wide. Bonus room is 12 inches tall to second level floor, 15 inches tall including second level railing.